Need help finding your perfect pair? We got you.
Finding the perfect eyewear for some can be a complicated and nerve-wracking process, but we're here to help. Though generally, glasses are considered a "one size fits all" type of thing, we all have different shaped faces and facial features that may complicate things. Through this guide, learn about your unique face features and how you can enhance them beautifully with eyewear. Remember, the first thing that people see when they look at you is you will be your glasses, so give them something to remember!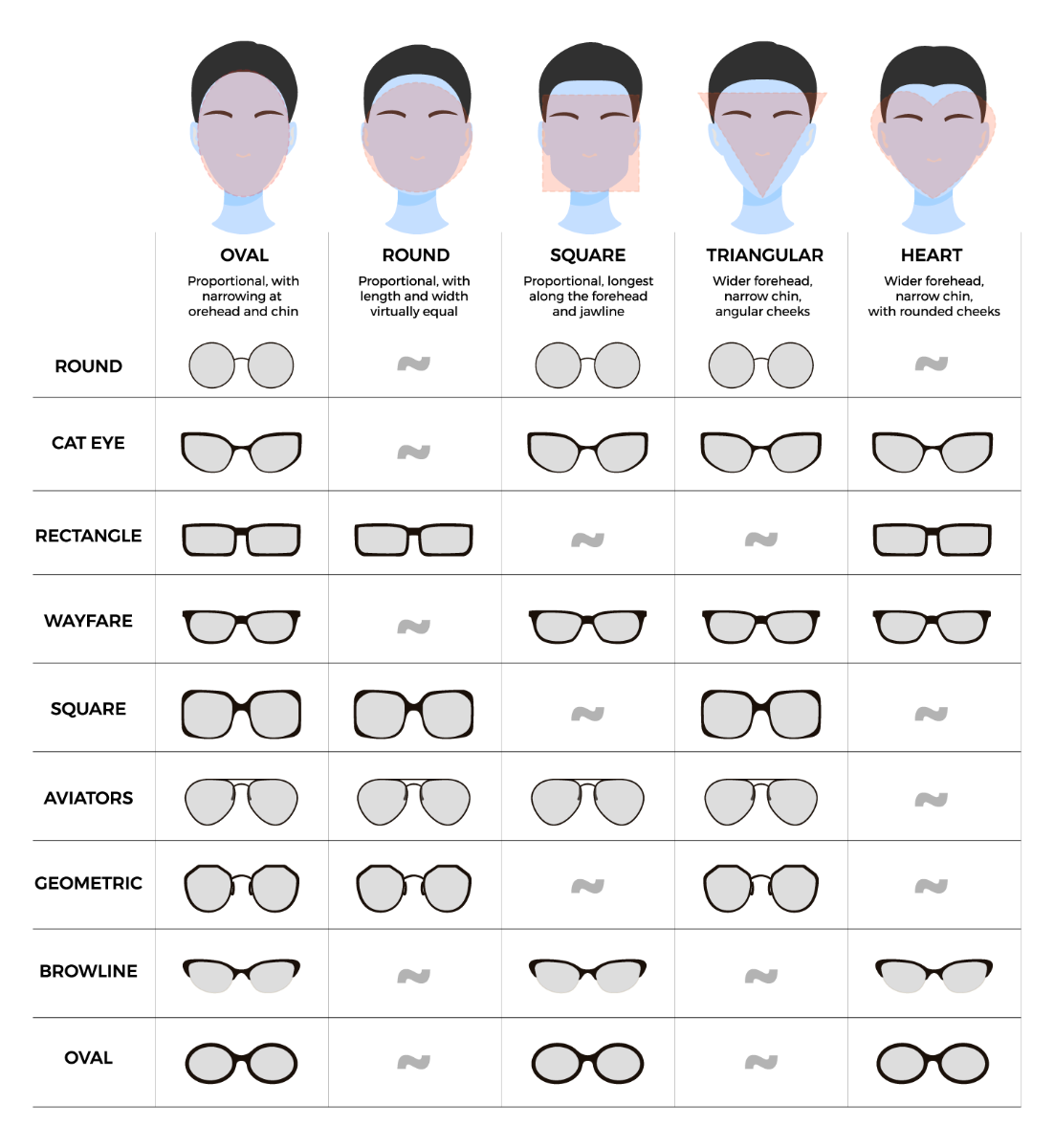 First things first, let's find your face shape.
Oval: You most likely have a universal shaped face for any frame! It is up to you to figure out what your favorite styles are for your own personal style. Take into consideration if you prefer a certain feature or not, for example if you like nose-pads or prefer an acetate composition versus a metal one. If you're open minded, you can have them all!
Round: Given the softness of your facial structure, it's so easy to enhance and contour with angled and geometric styles. I always recommend sharp angles for anyone with a round face, as well as oversized styles to be proportionate all the way around and not look too small at any point. If you have big cheeks as well, I recommend pieces with nose-pads and/or styles that are squared on the bottom to not get in the way when you smile or talk!
Square: You can have a lot of fun enhancing your facial structure with any different shape glasses! Have some fun with a round or cat eye pair which will bring out your jawline, or you can be more classic and edgy with an aviator or oval style. If you do like a square or rectangular style, I recommend something with a softened curve to it to counteract and bring out your natural angles complimentary instead of harshly.
Triangular: Look into styles that are wider at the top and get narrow at the bottom to not take over the bottom half of your face. You would look awesome in a cat eye or a smaller, trendier style. Keep in mind that a larger sized frame can take over your face since you have such a narrow jawline! I highly recommend tinted lens sunglasses so that you can see through and see the natural curve of your face if you are choosing to go with a larger style.This CAN be a look though depending on how you style it.
Heart Shaped: Your cheekbones are high and prominent with a similar width across the face as your forehead. Your chin is narrower than the rest of your face. Pro-tip: if your cheekbones are very raised and often touch your glasses when you move, eyewear with nose-pads or squared bottom frames will save the day!
Remember- you can wear ANYTHING as long as you walk with your head high and with confidence. If you love it, wear it, and don't let anyone tell you otherwise!